Processor

Intel® Quad Core™ i7-7700HQ Processor (6M Cache, up to 3.80 GHz)

Memory

*

AVAILABLE IN 2 VARIANTS *, 16GB DDR4 (1 x 16GB) High Performance RAM (32GB Max), 32GB DDR4 (2 x 16GB) High Performance RAM

Solid State Drive

* AVAILABLE IN 4 VARIANTS *,128GB M.2 SSD (up to 500MB/s), 250GB M.2 PCIe High Speed SSD (up to 2800MB/s), 512GB M.2 PCIe High Speed SSD (up to 2800MB/s), 1TB (1000GB) M.2 PCIe High Speed SSD (up to 2800MB/s)

HDD

1TB (1000GB) 2.5″ mechanical hard drive

Graphics

nVidia GeForce GTX 1060 6GB GDDR5 VRAM

Operating System

Windows 10 Pro 64-Bit

Display

15.6″ FHD IPS (1920×1080) Venom Vision Anti Glare Display

Audio

2.1 High definition audio system with 2 x 2W speakers + 3W subwoofer. Built in digital microphone. Audio out for speakers or headphones and audio input for microphone

WebCam

HD Webcam with D-MIC

Battery

4400mAh/47.52Wh removable Li-ion battery

Keyboard

BlackStrike Mechanical RGB Backlight Keyboard with numeric keypad

Wireless LAN

Intel® Dual Band Wireless AC 8260 (up to 867 Mbps)

LAN

RJ 45 – 10/100/1000 Mb/Sec – Wake on LAN (WOL and DSM)

Bluetooth

Bluetooth 4.2

Card Reader

4-in-1 Card reader – MMC/SD/SDHC/SDXC card

Ports

1 x USB Type C (supports USB 3.1/2.0), 3 x USB 3.0 ports (1 supports charging), 2 x USB 2.0 Ports, 1 x HDMI output port (with HDCP), 1 x Display Port, 1 x Headphone jack, 1 x Microphone jack, 1 x RJ-45 LAN port

Case

Annodised aluminium top cover with reinforced stealth black polycarbonate & ABS chassis

Pointing Device

Built in touch pad with multi-gesture and scrolling function

Power Supply

1 X 180W (19.5V/9.23A) power adaptor – automatic voltage adjustment between 100 and 240VAC 50/60Hz

Weight

3.0kg – 6.61lbs

Dimensions

386(W) x 270(D) x 35(H)mm – 15.19″(W) x 10.69″(D) x 1.37″(H)

Warranty

1 Year Parts and Labour Global Warranty
Shipping is via an global express courier, which means wherever you are, we can ship to you direct from Australia. Fully tracked, fully insured anywhere in the world.
All items shipped require a signature from the recipient upon delivery to ensure the package is delivered safely and not left unattended at your premises.
Global Express delivery time is 4-7 business days. More shipping options are available at checkout depending on your location.
Shop Venom delivers to the below countries;
North America
United States
Canada
Mexico
Nicaragua
Panama
Belize
South America
Argentina
Bolivia
Brazil
Chile
Colombia
Ecuador
French Guiana
Guyana
Paraguay
Peru
Uruguay
Venezuela
Europe
Albania
Austria
Azerbaijan
Belgium
Bosnia-
Herzegovina
Bulgaria
Croatia
Cyprus
Czech Republic
Denmark
Estonia
Finland
France
Germany
Gibraltar
Greece
Greenland
Holy See
Hungary
Iceland
Ireland
Italy
Latvia
Liechtenstein
Lithuania
Luxembourg
Macedonia
Malta
Moldova
Monaco
Montenegro
Netherlands
Norway
Poland
Portugal
Romania
Russia
San Marino
Serbia
Slovakia
Slovenia
Spain
Sweden
Switzerland
Ukraine
United Kingdom
Asia
Brunei
Cambodia
China
Hong Kong
India
Indonesia
Japan
Kazakhstan
Kyrgyzstan
Laos
Macau
Malaysia
Maldives
Mongolia
Nepal
Pakistan
Philippines
Singapore
South Korea
Sri Lanka
Taiwan
Tajikistan
Thailand
Turkmenistan
Uzbekistan
Vietnam
Asia Pacific
American Samoa
Christmas Island
Cocos Islands
Cook Islands
Fiji
Guam (USA)
Kiribati
Marshall Islands
Micronesia
Nauru
New Caledonia
New Zealand
Niue
Norfolk Island
Palau
Papua New Guinea
Pitcairn Island
Polynesia (French)
Samoa
Solomon Islands
East Timor
Tokelau
Tonga
Tuvalu
Vanuatu
Middle East
Bahrain
Israel
Jordan
Kuwait
Oman
Qatar
Saudi Arabia
Turkey
U.A.E
Africa
Algeria
Egypt
Kenya
Madagascar
Mauritius
Morocco
Nigeria
South Africa
From Australia to the World, purchase from Venom Global store now with PayPal in your local currency. Shop Venom is priced in United States dollars ($USD) for the purposes of a baseline international currency being accessible to all. When you pay via Paypal you are able to use your own local currency. One price, for planet earth.
Zero taxes as Venom Computers is exporting from Australia no taxes (0%, $0) are applicable from our end. Import taxes or customs duties may be applicable in your own home country and you should check with customs in your own respective country to see if taxes or duties apply when receiving goods.
Products purchased through Shop Venom come with a global warranty which protects every customer on earth so you can rest assured that the high performance promise will be backed with a support to match.Learn More.
Warranty includes a free courier pick up and return service if you are located in certain countries. Learn More.
Lookup Venom Care Warranty to review your Venom warranty status, technical support coverage, and Venom Extended Care eligibility.
To receive technical support or to lodge a warranty claim on a Venom product you have purchased, please click the enter button below to open the Venom Help Desk.


A Muscle Book with NVidia GTX 1060 Graphics that is VR ready.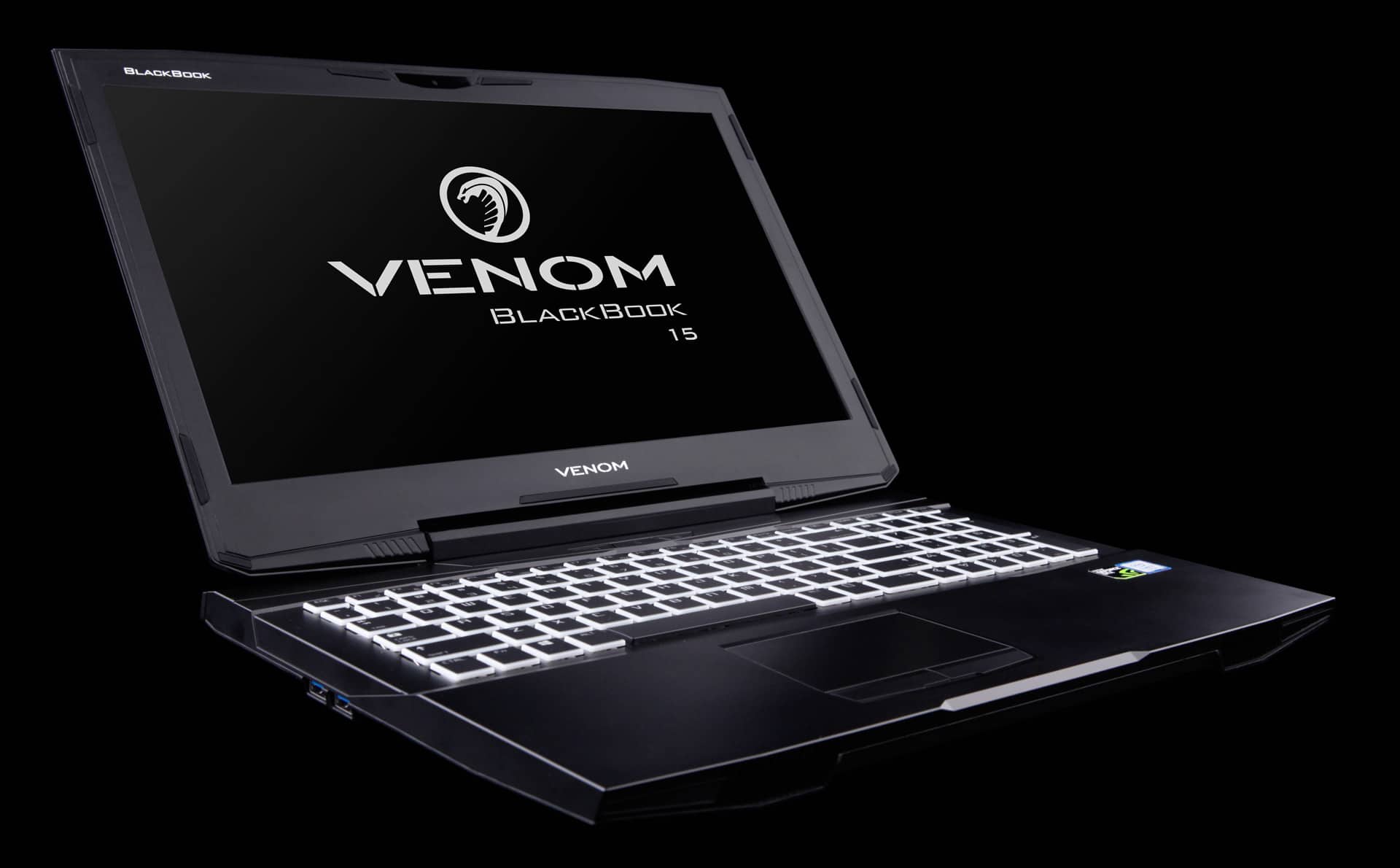 Award Winning – For Creators & Gamers
Built with the end game in mind. Designed for people who take things seriously, when every detail matters. CAD, CAM or engineering applications need that cutting edge, as does gaming or VR. The all new BlackBook 15 is the ultimate muscle book created with performance in mind. This is Venom's 4th generation of the award winning BlackBook, specifically for Creators and Gamers.
Graphical Prowess – VR ready
The next generation nVidia 1060 GTX graphics card with 6GB of memory is an incredible 70% faster than the previous generation 960 card. Game with next-generation VR performance, the lowest latency, and plug-and-play compatibility.
The GeForce GTX 1060 graphics card is loaded with innovative new gaming technologies, making it the perfect choice for the latest high-definition games. Powered by NVIDIA Pascal™—the most advanced GPU architecture ever created—the GeForce GTX 1060 delivers brilliant performance that opens the door to virtual reality and beyond.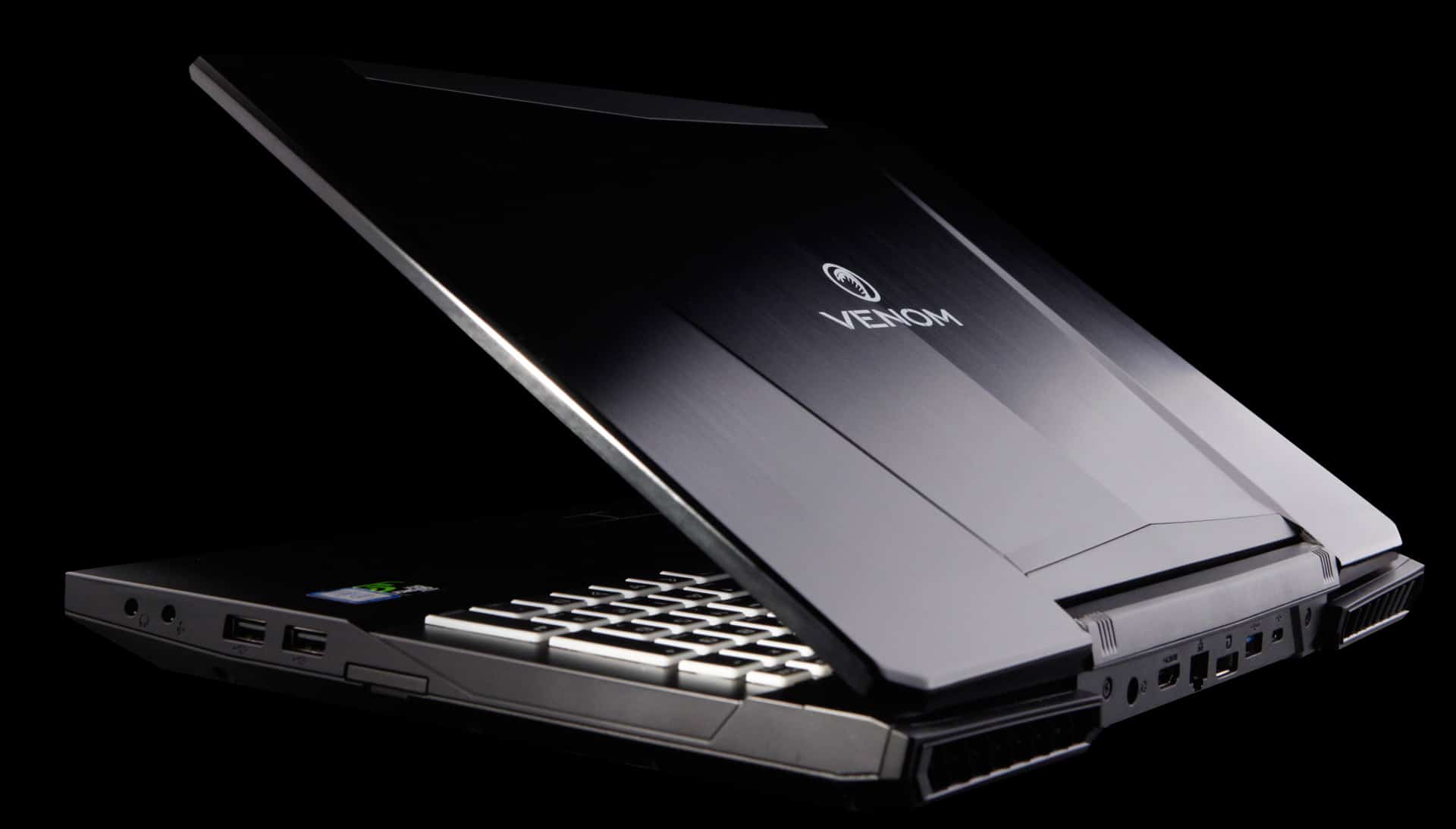 The 15" Venom BlackBook 15 has a stunning IPS Anti-glare Venom Vision display. Performance means next level creating with an unmatched ability to edit movies, play the most demanding games, and editing and re-touching images and photos; it will be both a breeze and a pleasure. The non-reflective anti-glare IPS screen is a delight to stare at during those long hours of use.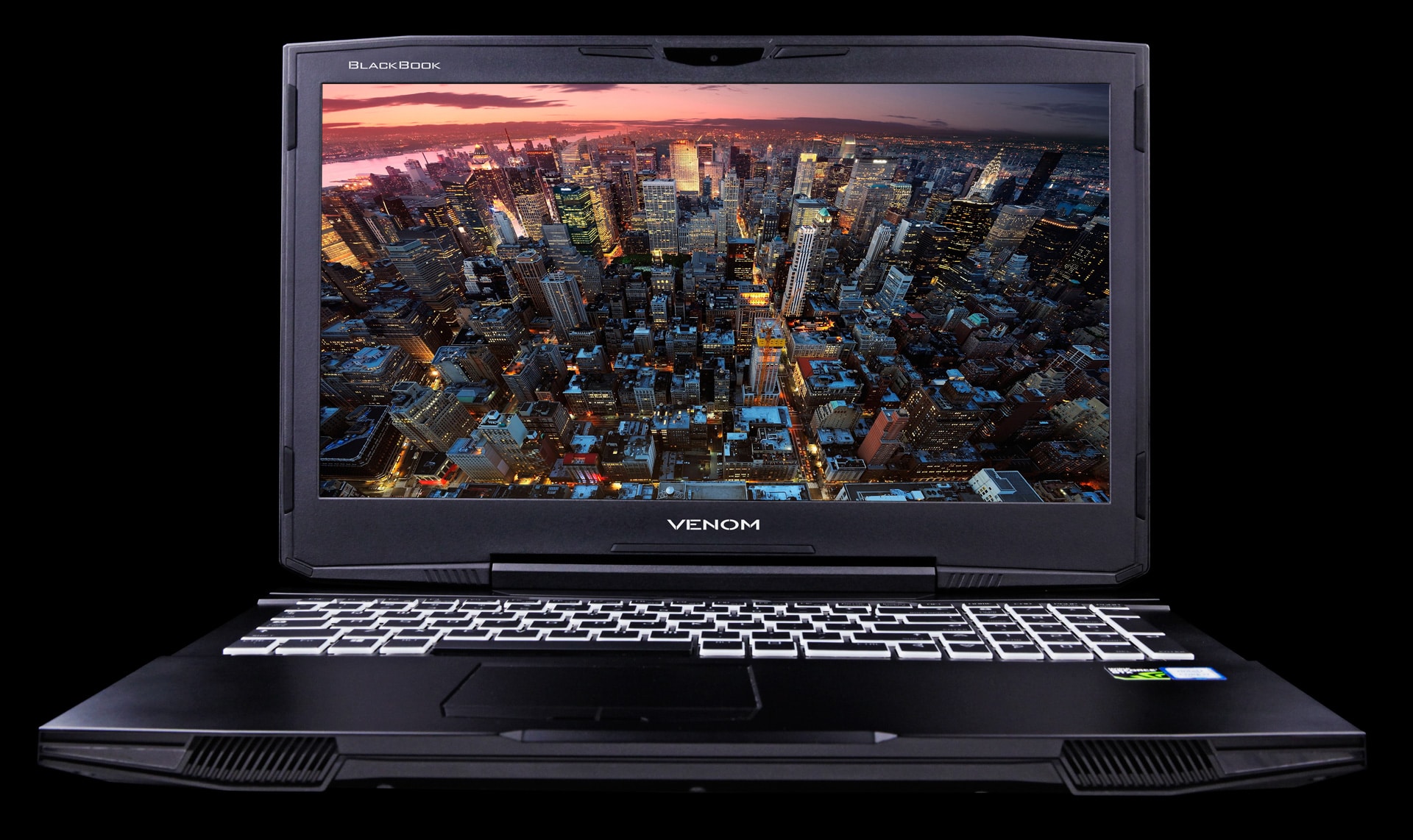 The Venom BlackBook 15 has even more power than before with its high performance Intel Quad Core i7 processor. Everything is faster and smoother to work or play with when using processor intensive applications or just everyday tasks when you need to get work done.
Have something to say? Be heard
The clamshell laptop is a timeless design; its shape and form is crafted around the keyboard. The Venom BlackBook 15 has an all new RGB backlit full-sized Mechanical Venom BlackStrike keyboard with a numeric keypad. Individually lit and controlled mechanical switches and keys provide high speed typing and data input. The inbuilt software utility provides multiple control options around lighting and effects. When what you have to input matters, gaming or working, the BlackStrike keyboard won't let you down. The Mechanical switches provide a tactical type and feel with a crisp and instant response, making this one of the most unique 15" muscle books in the world. The touchpad provides a smooth surface to scroll and reach all corners of the screen while also supporting multi-touch functions and inputs.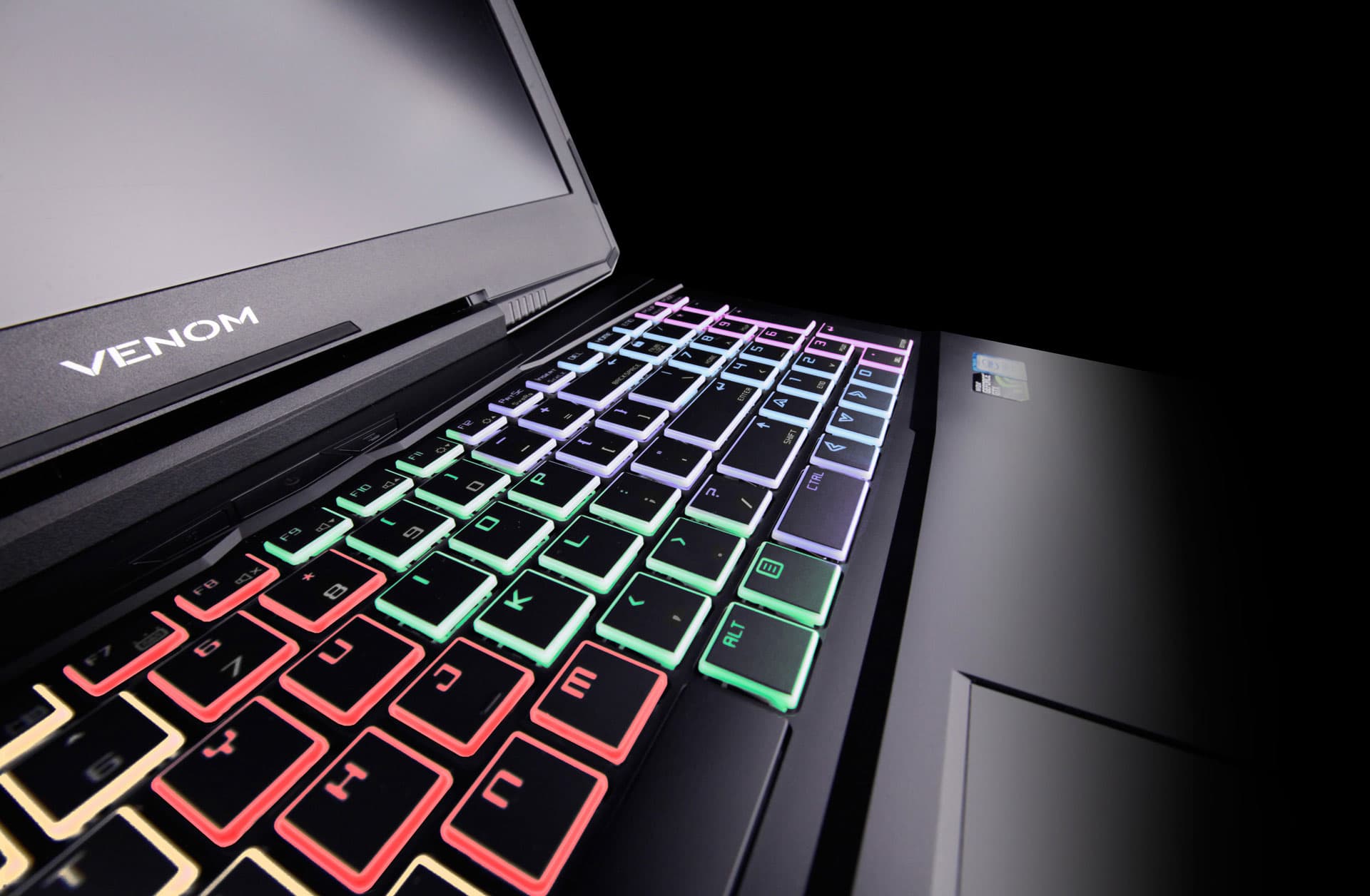 We pride ourselves on making sure everything matters. All of that performance should never come with a compromise. When the difference between winning and losing depends on the smallest factors, everything matters. The CPU and GPU have separate active cooling controllers and the fans have an active cooling mechanism to turn on and off when needed, while maintaining acoustic and thermal levels at the most desirable level possible.
Performance is a measurement when only consistently delivered. Nothing is more true to this than the PCIe NVME based SSD drive used in the Venom BlackBook 15, with up to an incredible 2800 MB/s read speed. Speed and reliability are the cornerstone of Venom and this BlackBook has the fastest drive we have ever used in any PC, translating into a 4.5 second cold Windows boot up time. With up to 3 expandable bays, the endless arrays and configurations for future upgradeability ensure your storage requirements can always be accounted for, with a responsible future proof design. A 1TB mechanical hard drive is also included as standard so that large files can also be accessed with speed and convenience, eliminating the need to rely on an additional external hard drive.
Up to 32GB's of RAM means that the BlackBook 15 delivers on all promises of performance across all sections that matter. What makes it fast, is not just the clock speed but its incredible low latency. Low Latency, high speed memory is what makes the access and clock speeds of this memory push the boundaries with all applications, but also reduce stress on all other components, such as the processor, ensuring that homogenous, low energy, reliable, high performance system speeds are achieved – always.
Crafted with Attitude – Stealth Black
The top cover is crafted in anodized aluminium, while the housing is crafted out of a new stealth black Polycarbonate Acrylonitrile butadiene styrene (ABS) thermoplastic polymer. The mechanical properties of this ABS are for impact resistance and toughness overall, weighing in at only a minimal 3.0kgs/ 6.61lbs. The new housing provides great engineering properties that assist with cooling and reliability and also provides a solid, reassuring feel while minimally impacting the overall height.
Your Centrepiece of Technology
The Venom BlackBook 15 continues to be the centrepiece of your personal or business device and technology infrastructure with the endless connectivity options. With a DisplayPort and HDMI port supporting 2 external monitors simultaneously, productivity can be increased. Four USB 3.0 ports, one with charging capability (one as a combined USB Type C slot), provide high speed connectivity to an endless array of external devices, and the inbuilt card reader ensures data transfer with other devices will also be a breeze. There is also a USB Type C USB 3.1 port and two additional USB 2.0 ports for legacy devices and non-power hungry devices such as keyboards and mice.
Freedom no longer at a price
Every Venom BlackBook comes standard with a full 12 months of Internet Security and Antivirus protection. Freedom no longer comes at a price. Windows is the world's most popular and open operating system that is now protected by the full version Internet Security software bundled by Venom as standard.
Recovery – Not the 6 AM kind
The system recovery image is provided on an external USB 3.0 drive. This means you can always recover your original factory image regardless of what happens to your computer's storage drive. Upgrades and clean starts are just 12 minutes away from being back where you need to be.

Powerful wireless connectivity
Enjoy the benefits of unparalleled speeds with industry leading Intel Centrino Dual Band AC wireless. Experience a wireless connection that is both stronger, faster and connected over an expanded range and bands. When you're on the go, you'll always be able to make the best of what's available.
Designed for gaming, video and music. The new BlackBook 15 features a 2.1 high definition audio system with a built in 3 watt subwoofer and a built in digital microphone for video calls and gaming. Additional speakers or headphones can be supported via the 3.5mm jack and an input for an external microphone is also supported. Equipped with the latest Sound Blaster Cinema 3 software that is designed with SBX Pro Studio to deliver a holistic audio experience.
The Venom BlackBook 15 is for those that need to push the boundaries and break free. When performance is what matters, everything matters. This is the muscle book For Gamers and Creators.